WELCOME TO CLOUD MOUNTAIN
Located in southwest Washington, Cloud Mountain Retreat Center is a non-sectarian Buddhist center hosting residential retreats year round.
Our purpose is to provide opportunities for all individuals to hear and practice Buddhist teachings with qualified and realized teachers in an environment that combines simplicity, integrity, kindness and direct contact with the beauty and energies of the natural world in support of spiritual deepening and realization.
Retreat is an opportunity to disengage from the rhythms and habits of our daily lives and bring ourselves wholeheartedly to meditative practice.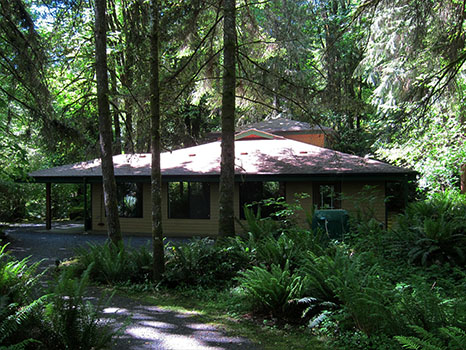 Cloud Mountain is situated in southwest Washington on fifteen beautiful, forested acres which are dotted with ponds and a lovely creek. The retreat center is a veritable wildlife refuge which we share with black-tailed deer, songbirds of all kinds, great blue herons, owls, ducks, raccoons, koi, newts, salamanders and the occasional river otter. The facility is made up of a complex of buildings tucked into the forest and connected by winding, rock-lined gravel paths.